Follow live Milan Fashion Week: don't miss all the live streaming shows on our website. Our schedule for today: Grinko (9.30 am), Atsushi Nakashima (10.30 am), Alberto Zambelli (11.30 am), Cristiano Burani (12.15 pm), Gucci (03.00 pm), Byblos Milano (04.00 pm), Alberta Ferretti (05.00 pm), N°21 (06.00 pm), Francesco Scognamiglio (08.00 pm), Angel Chen (08.30 pm). You can book your favourite appointments: an alert will notify you before the shows. Choose whether to be notified by e-mail or by text message 30 minutes before the show.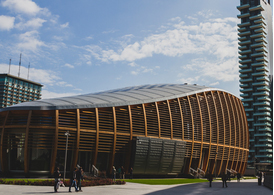 For the second time the Fashion Film Festival Milano is at our Fashion Hub: come and visit the space to discover #FFFMilanoForWomen with a capsule dedicated to women and realized by women.
CNMI newsstands: don't miss our new Insider's Guide curated by Boiler Corporation, cover illustrated by Malika Favre. Download your digital copy or take your printed agenda around the city.